[Previous Chapter] [Table of Contents] [Next Chapter]

Chapter 3/3: Maleficent captures Prince Phillip
[Phillip on his horse, whistling 'once upon a dream' as he approaches the cottage. He knocks on the door]
Maleficent:

Come in!
[Phillip gets in and is surprised by a couple of Maleficent's servants. He struggles, but ultimately is completely tied. Maleficent and her raven watch the scene with deep satisfaction]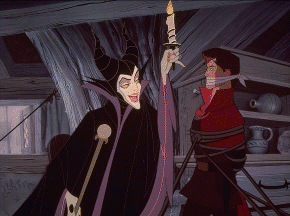 Maleficent:

[lighting his face with a candle] Well, this is a pleasant surprise. I set my trap for a peasant, and lo! I catch a prince! [laughs] Away with him. But gently, my pets, gently, I have plans for our royal guest.
[The fairies are still on their way. As they arrive, they find the door open. They enter and find Phillip's hat on the floor]
Fairies:

Maleficent!

Merryweather:

She's got Prince Phillip!

Flora:

At the forbidden mountain.

Fauna:

But we can't, we can't go there!

Flora:

We can, and we must.
[Previous Chapter] [Table of Contents] [Next Chapter]

---
Frank Pilhofer <fp -AT- fpx.de> Back to the Homepage Last modified: Fri Sep 22 12:31:52 1995